9,846 students scored above 400 marks-Fred Matiang'i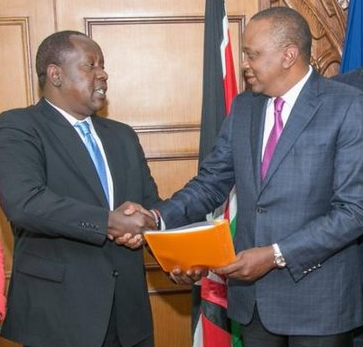 9,846 students scored above 400 marks-Fred Matiang'i
2017 Standard Eight candidates will today access their results following the release on Tuesday morning at Kenya Institute of Curriculum Development in the capital Nairobi by Education Cabinet Secretary Fred Matiang'. See Also:Government Jobs – ADA
According to Dr Matiang'i ,there was no case of malpractice reported in the tests which means  all the 1,003,556 candidates who wrote the exams will receive their results.
The CS congratulated primary school heads and teachers for their hard work towards ensuring that there were no irregularities.Also Read:Supreme Court upholds Uhuru's re-election
Out of  1,003,556 candidates who did the exams, 9,846 scored 400 marks and above out of the possible 500.The top candidate, from a private school, scored 455 out of 500 marks, an 18-mark improvement from last year's 437.
Matiang'i said public schools fared well in the exams and produced the second best candidate countrywide.However, some 2, 360 learners failed to manage 100 marks which reduced last years number by 4,000.Also See:Global Investigative Journalism Conference 2017 underway in South Africa
Special needs schools have produced six of the top 100 candidates.
The Cabinet Secretary also said that all 9,000 candidates from both private and public institutions who scored above 400 marks and above will get an opportunity to join national schools.
Form One selection will start on December 4, 2017 and will will be completed on December 12.
Parents and guardians can access the results by sending an SMS with the candidate's index number to the code 22252 or the Kenya National Examinations Council (Knec) website.Read Also:Over 1M KCPE Candidates Start Exams Amid Fears of Political Chaos
This years release came almost a month earlier than previous years after marking was fast-tracked by automated Optical Mark Recognition machines.The 20 new scanning machines, bought by the Kenya National Examinations Council (Knec) at a cost of Sh90 million, replaced 20 old scanners bought more than 17 years ago
Last year,the KCPE results were released on December 1
2017 standard 8 examinations began on Tuesday 31st October and papers were safely distributed across the centres.Over 600,000 KCSE Candidates Start 2017 Tests Today