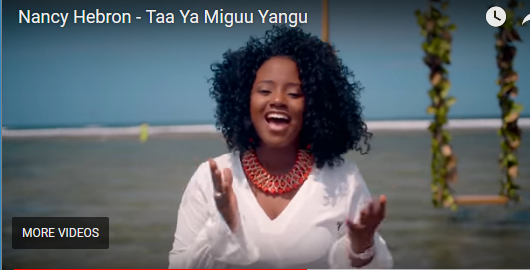 Bindu bichechanga: Former KTN Presenter plunges into gospel after marrying pastor
Former KTN Str8 Up Presenter has finally made a comeback to limelight after five years,from a socialite to a gospel singer.
Tero Mdee, now Nancy Hebron has dropped her first gospel single dubbed 'Taa ya Miguu Yangu' after She Married a Pastor and ditched her flashy lifestyle- Classic 105.Things do change for the better.See Also: Life happens and so does love
She was once one of the most fashionable female media personalities in Kenya during her glory days on Str8 Up, but she quit her job in 2012 and opted to go back to Tanzania where she later got married to a pastor against the wish of her family.
Mdee trashed her once fashionable and flashy lifestyle after she got married to prophet Hebron Kisamo. She even became a pastor. Also See:10 Different Ways To Say Your Wedding Vows
She allegedly decided to join her husband's ministry as a pastor. This comes about four years since she announced that she had changed her life for better by settling down with her man who is a preacher and the father to their children.
It is however a big surprise as she was among the sexiest TV host who graced our TV screens in 2010 to 2012 before she got married to a prophet in Tanzania. Namtero Mdee a.k.a Tero Mdee apparently changed over the night as she refused to listen to her family who were not in support of her marriage to the pastor.
The lady had however made up her mind and was married in a secret ceremony that none of her family members were invited. 5 years now and the former Str8t up is a pastor, something that has shocked her fans. Read Also:Tweeting tips to get more followers
Her other sister Vanessa Mdee is however still following her dream as a singer and from the look of things, she is doing pretty well.
The youngest Marion Mdee aka Marion Mars apparently revealed her sister's whereabouts through a whatsapp chat that is currently making rounds on social media.
Despite the drama, seems that Vanessa and Marion Mdee are still close with their sister.
From her look in the video, it's clear Mdee is living a good life ever since she found Jesus. She has put on extra kilos, and also has that look of church woman. See Also:Amid agony that comes with an 'empty womb', there is hope