IEBC: No idling or roaming at the polling centre after voting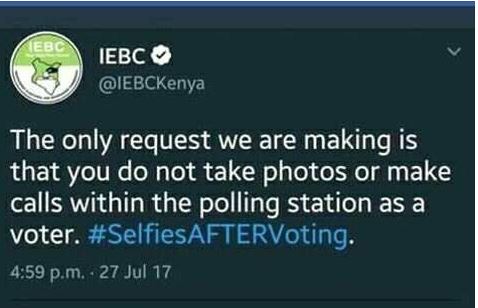 IEBC: No idling or roaming at the polling centre after voting
The Independent Electoral and Boundaries Commission (IEBC) has a stern message to all voters: vote and leave.
IEBC and representatives of presidential candidates have reached consensus on the number of agents who will be accredited to monitor the presidential tallying of votes in the August 8, 2017 General Election.
IEBC Chairman Wafula Chebukati said the two groups  resolved to have one agent per candidate.
"The jurisdiction of the IEBC at the polling centre is 400 metres so voters will come vote and leave the 400-metre area, so as to not interfere with the operations. Whatever happens outside the 400 metres, that is outside our jurisdiction. I believe Kenyans will follow the law and will not cause any fracas out there because that is where those other agencies come in," the poll agency chief told a news conference held at the Commission's Anniversary Towers offices.
"We all agreed the law is very clear that one agent per political party or candidate is allowed at the polling station, that is what the law says."
He reiterated that non-accredited persons will not be allowed within 400 meters of a polling centre.
"Regulation 63 of the Elections (General) Regulations bestows upon the presiding officer the overall duty to keep order at his or her polling station. The Presiding Officer may order the removal of any person who misconducts himself or herself at the polling station, or fails to obey any lawful instructions or orders of the presiding officer and such person shall be removed by the police officer present," Chebukati said.
He further emphasised that the Presiding Officer may order the dispersal of any gathering of persons which in his or her view appears to be preventing free entry and exit at the polling station or to be intimidating or interfering with voters, and any such order shall be sufficient authority for a police officer, or any other person authorized by the order, to effect the dispersal.
According to plans outlined by NASA presidential candidate Odinga, some of the 'adopt-a-polling station' volunteers will take videos and photos of electoral materials, including Forms 34 and 36.
Odinga's camp plans to use the records as "irrefutable evidence in case the election results are challenged."
Credit: Capital FM
Also see: video below to learn more about Kenya