Meet Alex Kamau,the author of the book " I shall not want"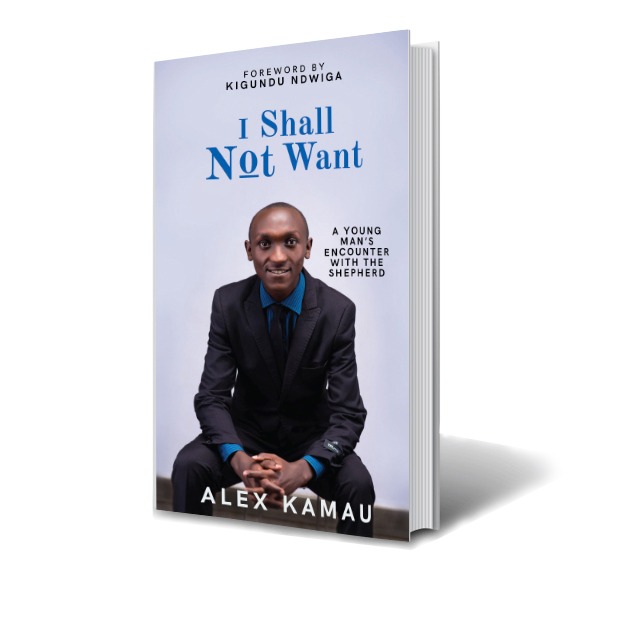 Meet Alex Kamau,the author of the book " I shall not want"
If challenges pull you back and make you lose your  focus, then you may need to learn otherwise from Alex Kamau, dedicated young man anchored in Christ and working hard  towards making his dreams come true.
Interact with Fountains of Christ (FOC) Ministers this Sabbath
Born and raised up from a humble background,25 year old Kamau is unstoppable when he decides to move.
In his book "I shall not want", Kamau unveils the most amazing secret of getting contented in life. He says that finding fulfillment and the meaning of life has nothing to do with achievements or people. A beautiful life is found on the believe and assurance of existence of the great shepherd Jesus Christ.
He authored the book in on December 2017 targeting an audience of ages between 18-35 years.
He confesses that he at first never thought he could author a book until something happened in his life and that's when he moved to write.
His ups and down in his academic life triggered his writings as he recalls how he dropped from campus without hope of excelling.
"In 2010,i joined campus to study art in Kenyatta University,little did i know that the four year journey would lead to eight years shattering my dreams and hope", says the then desperate  Kamau.
He says that campus life was a real struggle full of depression as it saw him drop thrice making him go through a crisis that he did not anticipate.
It was a rough way but today he agrees that that was the time God wrote his story. In all the straying,he came to find  a lasting assurance in the love of a wonderful shepherd and that's what moved him to write  his life story after the conviction of God's guidance in every stage of his life.
Among the people he counts regardless of his tough life are his wonderful parents,Mr and Mrs Gideon Ngigi and his two lovely sisters Milcah and Wambui, who have been embracing him with love all along.
He has friends  to count on too, who has been a source of inspiration in the journey of life.
Alex finds his passion and calling in reaching out to the youth, inspiring them to live a meaningful and fulfilling life while still young.
Do not miss to get the copy of his book to get an ideal testimony and allow him take you through a tough journey that brought a smile on his face at the sun set.
Get determined Kamau using the following contacts;
Tel: 0718718930
Website: alexkamau.com