Meet retired Pastor Francis Njau,74 on fire for Christ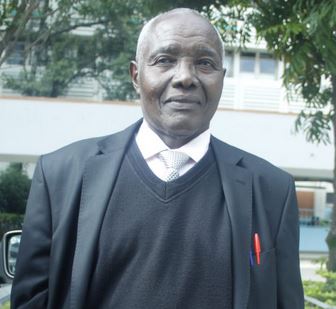 Meet retired Pastor Francis Njau,74 on fire for Christ
He strongly believes in prophecy,a God given means that tells us when,by who and how salvation will be accomplished. To him, teaching a  prophecy lesson is like repeating a lecture for years. It is on his finger tips  and is well versed with deep amazing basics, leave alone Daniel and Revelation vocabularies that many, including Adventists fear.
See Also: The Journey Has Just Began- Hephziba,73
Apart from majoring in this field during his theological studies, he confesses that he had passion for prophecy because it is the right arm of gospel of salvation which also tells us how salvation will be implemented.
He will appreciate most when you start with 'Retired' Pastor….. every time you address him, be it on private or on public gatherings. So proud to be retired but he confesses he does much more now than when he was officially working.
Retired Pastor Francis Njau is inspiring Kenya Current Adventist bit readers  this Sabbath, and Everest Media Solutions is so proud to host this great,humble man of God who narrates endlessness tales about prophecy.
Read Also: Nairobi Central SDA Choir Covering Our Inspiration Today
He first appreciates his dear wife Mary Njeri for being supportive all all along the years he has been serving, without forgetting his five children,two gentlemen and a lady for standing with him as he ministered and has attributed them in one of his books.
Retired Pastor Francis was  a businessman and a Roman Catholic  believer before he converted to Adventism in the year 1974. Since then,he devoted to full service in the remnant church which was translated in the many leadership positions he took afterwards. Among the top positions he held between the year 1990 and 1997 included being a Conference Executive Secretary and ministerial secretary,a president to the conference and of course a church pastor.
He has traveled to different countries and states where he was invited to minister,including and not limited to Britain,Ethiopia,USA, Botswana, Burundi  and Uganda.
Consider this: Basic Questions Concerning Sabbath Observance and Their Answers
Speaking at Technical University of Kenya after his prophecy lessons in a forum that was organized by Adventist students and alumni  from various universities in Nairobi, Pastor Njau expressed his interest for the young people. His age does not bar him from interacting with young people and he confesses that he will always give youths first priority compared to other matters of the church because they have the energy, zeal and will always create time out of their tight schedules unlike the old who are ever busy.
"I like empowering youths because they will always  be missionaries to their peers. Youths, especially students are always committed to evangelize using their meager pocket money. God used the young, like Joseph, Daniel and his comrades to serve and so He does today. They are the future church and it gives me pleasure to see young souls committing their lives to Christ. Students will always squeeze their little study time and win a souL, says Pastor Francis.
He has authored 3 books namely  Prophecy Expelled book 1 which is in question and answer form, written in the year 1999, Daniel and his destiny-God relocate to Babylon written on 2010 and Revelation and our destiny, 'fear not" written in the year  in the year 2016.
Also Read: 9 Signs of Christ's second coming-Alejandro Bullon
His books are in high demand and the first two are already out of stock. Reason behide it? They are simple for everyone to read, just like everyone will enjoy his prophecy lessons. Even teenagers long for the books and they confess the prophetic messages in the books are clear and easy to understand.
At his age, many will wonder why he still moves around with churches and universities preaching, even after retiring. His response is that his love for the Lord compels him to preach, and he enjoys serving in the vineyard because it makes God happy. He is currently an itinerant preacher who goes all over sharing the gospel.
Also See: Last Lesson In This Quarter;Boasting In The Cross
And as we finish his interview, he got the last message and a call  to everyone…"Let Kenya be a God fearing nation, a God fearing people who embrace the Gospel and are ready to go to heaven anytime Jesus Christ comes,no or after death.
Amid agony that comes with an 'empty womb', there is hope