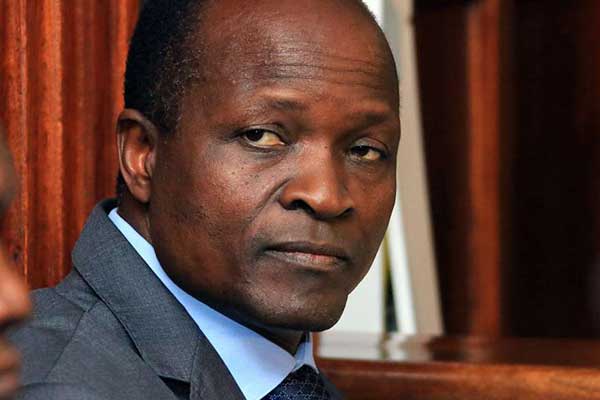 Migori Governor Okoth Obado released on Sh5 m bail
Migori Governor Okoth Obado released on Sh5 m bail  with tough conditions
Migori Governor Okoth Obado was on Wednesday morning freed on cash bail at the Milimani Law Courts. The Migori governor was directed by the High Court to pay Ksh5 million bail with two sureties of the same.
During the ruling, High Court Judge Jessie Lesiit issued other conditions to be complied with by Migori Governor Okoth Obado failure to which the bail would be cancelled.
Among the terms set by Justice Lesiit on Obado's bail were:
Migori Governor Okoth Obado Travel documents seized
Also read: Newspaper journalist assaulted and abducted in Kenya
The Migori Governor Okoth Obado is to surrender his travel documents in court, that is his Kenyan, East African and diplomatic passports. This means that Obado may not be able to travel outside the country to discharge his duties as Migori County seniormost executive.
Migori Governor Okoth Obado released on bail but movement restricted
The court also ordered that the Migori Governor Okoth Obado should not go within 20km of Homa Bay-Migori boundary. This is where the murder of Sharon Otieno, which he is accused of, took place.
Migori Governor Okoth Obado shall not cause Adjournment of case
Migori Governor Okoth Obado shall not cause an adjournment during the trial. He has to attend all the court sessions and may not appeal in any case for adjournment. Trips to court
He shall report to the Deputy Registrar of the Milimani High Court once a month.
Also read: Dr. Ezekiel Mutua: My Lowest moment in life was a six-month interdiction
Migori Governor Okoth Obado released on bail should but not interfere with Witnesses
Migori Governor Okoth Obado shall not contact, interfere or intimidate witnesses. He shall also refrain from intimidating parents, siblings and any relations of Ms Sharon Otieno.
Although Migori Governor Okoth Obado has been released on bail, his mouth has been gagged at Rallies
Migori Governor Okoth Obado shall not discuss the deceased and the case in meetings and political rallies.
Okoth Obado's co-accused Michael Oyamo (personal assistant) and Migori County Clerk Caspal Obiero will remain in custody after being denied bail. Judge Lesiit ruled that the release of Oyamo and Obiero would cause fear and anxiety among members of the public. She also cited security concerns as part of the reasons why the two will remain at the Industrial Area Remand Prison. Governor Obado has since denied charges of murdering Sharon on September 3 at Owade in Rachuonyo Sub-County of Homa Bay County. The slain university student was buried on Friday, October 19.
also read: To reduce poverty, address menace of adolescent pregnancy
Also read: Kidero, Sonko, Joho, Waiguru among 20 aspirants 'redcarded'