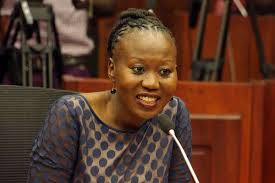 My Life Is In Danger-IEBC Commissioner
As the country is getting prepared for the October elections, the IEBC officials have tried to sort out their differences to make sure that the repeat presidential elections will be done without any hiccups as ordered by the Supreme Court of Kenya. See Also:US Pushes For Uhuru,Raila Talks.
Jubilee and NASA have already hit the road in bid to campaign for the coming October 17 elections.
However, as IEBC CEO Ezra Chiloba and IEBC Chairman Chebukati went on a retreat in Naivasha to sort out their differences, IEBC Commissioner Roselyn Akombe has allayed death threats on her life.
During an interview with the press,Dr Akombe said that her 34-year-old brother whose name is withheld for security reasons, worked in one of the government ministries. He and his family have fled the country after receiving threatening messages from unknown people. She however believes that the messages sent to her brother were directed to her and only meant to intimidate her for not singing to the "official tune".Read Also:Jubilee Split Over Plan To Oust CJ Maraga
The brother avoided using the Jomo Kenyatta International Airport (JKIA) for security reasons and instead used the road to Namanga before crossing to Tanzania.
"He left the country last week when the threats became too much," Said Dr Akombe.
"He is a man who loves this country and had always resisted our attempts to get him something to do abroad. I feel responsible for it. It feels bad but what can you do about it?" she continued. Related Story:I was Angered By The Supreme Court Ruling -Uhuru
Dr Akombe also went ahead and said that she has never felt so insecure in her life before.
"I have been to Somalia, Yemen, Jordan,Iraq and even Libya for security assessment missions but on a personal basis I have never felt this insecure,"She said.
The IEBC Commissioner is yet to report the incident as Inspector- General of Police Joseph Boinnet who has claimed that he is not aware of the matter. Also Read:CEO Ezra Chiloba on the Spot
With the soaring debate of the disputed August 8 polls,opposition claimed that security for a section of independent commissioners including IEBC chair Wafula Chebukati was withdrawn.
European Union Election Observation Mission in an interim report on Thursday called for enhancement of security for IEBC staff. See Also:"Supreme Court Should Have Ordered Vote Recount" Says President Uhuru Kenyatta