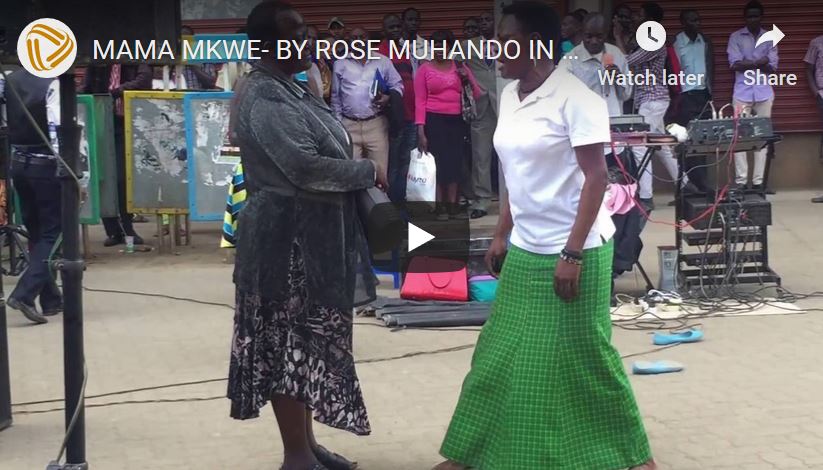 Nairobi Rose Muhando Mama mkwe dancer watched over 2.2million times on youtube. Why?
Rose Mhando Mkwe song dramatised in Nairobi street
Lady dramatises Rose Mhando's Mama Mkwe song
This lady is dramatising Rose Muhando's Mama Mkwe song and she does does this so magically, pulling crowds and youtube views like a real super star.
Why do mothers-in-law behave badly towards their daughters-in-law? Mama Mkwe means mother in law in swahili.
Rose Muhando is a popular gospel artist from Tanzania. Her songs are popular across the East African region.
The artists has not had a smooth ride in her career journey. At one point she disappeared from the ariwaves due to ill health and saddening rumours touching on her morals nearly killed her career.
However she bounced back in a big way to the chagrin of her naysayers.
See another artist featuring Rose Muhando's song Nyamaza.
Everest Media and Planning Solutions supports artists across Kenya to market their talent. The company has done a lot in the gospel industry and has recently made foray into the TV production.
The company's dubut TV programme Charmzone was featured on KUTV. The reality show tackles real relationship issues bedeviling the youth.
The company was started by a Kenyan Journalist, James Ratemo, and a host of friends.
See more gospel songs from Everest Media and Planning Solutions Limited
Teknolojia by Blessed Soul Singers
Mcheni Mungu by Umoja SDA Church Youth Choir
Nitakuimbia by Njathaini SDA Adventist Youth Choir
See more videos from Geb the drama King