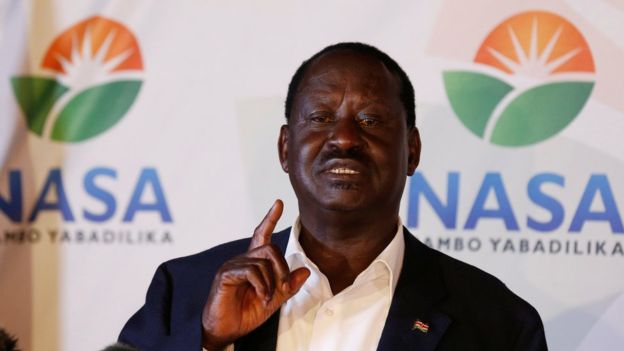 Raila To Declare Next Move After Uhuru's Bittersweet Victory
Opposition leader Raila Odinga is expected to declare his next move today after Uhuru Kenyatta was declared the winner of the repeat vote by Independent Electoral and Boundaries Commission chairman Wafula Chebukati on Monday evening.See Also:I Will Not Quit Politics-Raila
According to the reports,Mr.Odinga will convene a parliament group meeting for a brief review before announcing his move afterwards.
The Opposition Chief has demanded presidential election within 90 days arguing that the Independent Electoral and Boundaries Commission failed to meet NASA's demands in the last Thursday vote.
Thursday's contest saw Mr Kenyatta winning a decisive victory with 98 per cent of the vote, hailing the result as a vindication of his victory in an initial August poll which was later overturned by the country's Supreme Court.Read Also:7 Steps of Effectively Dealing with Office Gossip
The vote however was fraught with problems, with polling prevented by violent demonstrations in four western counties where Mr Odinga supporters had widely observed a boycott, prompting two days of running battles with security forces that left nine people dead.
Earlier on,Raila said that the NASA could be forced to explore civic disobedience to pressure the Jubilee government but the one week deadline to file presidential election petition at the Supreme Court is alarming. Also Read:No Dialogue With Raila,The Ballot Will Tell It All-UhuRuto
Mr.Raila on Monday kept his supporters guessing his next move after he postponed his planned announcement to today at Wiper Headquarters .He is also expected to escalate his political contest with Uhuru.
On Monday,Raila spent the better part of the day in his office as the country waited the announcement of the presidential results.
Despite taking a low profile,Mr.Raila wished the Kenya Certificate of Primary Education candidates well in their their exams that are starting today.
So far, Mr Odinga has remained silent but has promised to address his followers on Tuesday.
Ahead of Monday's announcement, security was stepped up in flashpoint areas in the west and in Nairobi's slums where some opposition supporters could be seen piling rocks and tyres and setting light to a few barricades.
Aside from some scuffles on Monday after the announcement, things have been largely calm since Saturday. To Read:Police Killed Over 30 During Demos,Human Right Groups Claim
The nation reported that according to the figures released by the IEBC election commission, a total of 7,616,217 people cast ballots in Thursday's protest-hit election. Kenyatta had received 7,483,895 votes to Odinga's 73,228, which equates to less than one percent of the vote in a sign that the boycott he called for had held.
The vote was the chaotic climax of two months of political drama after the Supreme Court overturned Mr Kenyatta's victory in August 8 polls over widespread irregularities and mismanagement by the IEBC.
But this time, election chief Wafula Chebukati said he was confident the poll had been "free, fair and credible".
The current political crisis is the worst to hit the country since a 2007 vote sparked months of politically-driven ethnic violence that left 1,100 people dead