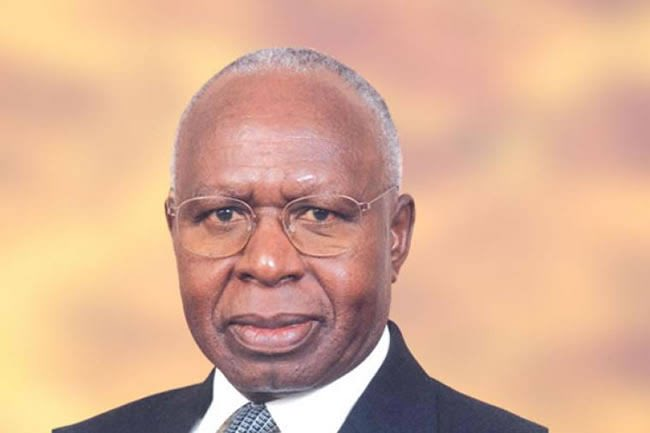 Simeon Nyachae: What you need to know
…. Simeon Nyachae's early years were spent with his mother. He was later to remark, "In a polygamous home the women tend to take hold of the children [especially when they are young], leaving the father nowhere."
Former Cabinet Minister Simeon Nyachae and Abagusii kingpin is is dead. This comes days after rumours rent the Internet that the former Nyaribari Chache MP and government operative had died, only for his family to refute and clarify that he was still fighting for his life.
However it is now official that Simeon Nyachae is no more.
Here is what you need to know about Simeon Nyachae: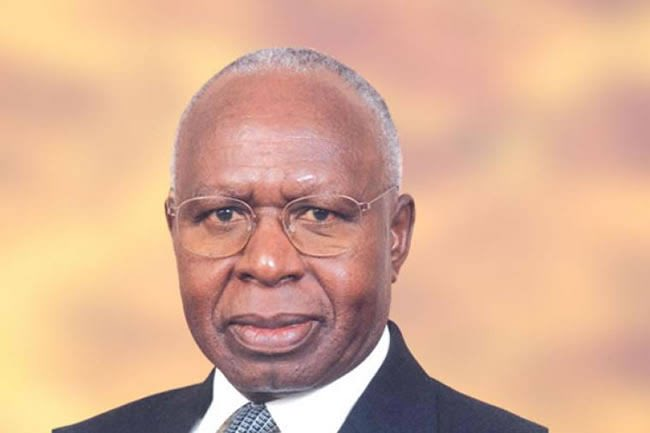 Simeon Nyachae was born in 1932 to the legendary colonial-era chief Musa Nyandusi.
He belonged to the first crop of British-trained African administrators and was MP for Nyaribari Chache constituency.
He attended Torquay College, UK, between 1957 and 1959 and later Churchill College, Cambridge.
He started as a District officer in Kangundo in 1963 rsing to become a Provincial Commissioner between 1965 and 1979 and later Head of Civil Service and Secretary to the Cabinet in the Moi regime.
In 1941, his father put him in Nyanchwa Seventh-day Adventist School and later in 1947, he joined Kereri Intermediate School. However two years later in 1949, he joined Kisii Government African School but in 1953, just a year before he sat for the then Ordinary Level School Certificate, he withdrew from the school and was employed at his father's chief's camp as a district clerk in 1954.
He later attended Torquay Academy and Churchill College, Cambridge, both in the United Kingdom.
Mr Simeon Nyachae is know to own a chain of businesses ranging from agriculture, banking, real estate, transportation and manufacturing based in all major cities in Kenya including Narok, Kisii, Kericho, Sotik, Kisumu, Mombasa, Nyeri and Nairobi.
Simeon Nyachae and Family
Mr. Nyachae's family includes four wives and over 20 children, several grandchildren and great grand children.
He is the father of Charles Nyachae, former chairperson of the Commission for the Implementation of the Constitution. Charles Nyachae's mother, Martha Mwango Nyachae is Simeon Nyachae's third wife and was born in 1940.
Also see: Charles Ayieko Nyachae – Biography, Wife, Family, Wealth, Bio, Profile, Former CIC Chairman
See more about He was born into a large polygamous family and reports indicate that Simeon Nyachae was fortunate that his father developed a particular liking for him, more than his elder brother James Oiruria, who apparently was less talkative and outgoing than Simon Nyachae.
Nyachae and Politics
During the 2002 General Elections he did not succeed in his presidential bid but was able to enter parliament with a 14-member strong FORD-People faction after collecting all constituencies in Kisii.
See this book for more but here is an excerpt from the book: As Nyachae grew up he became unusually close to his father, but in the years before his schooling he belonged to his mother. Pauline Bosibori had but two children, and James Oiruria was only two years older than Nyachae. The two brothers were very close. Nyachae was brighter, more aggressive, and more talkative (like his mother), so that he tended to dominate Oiruria. But whatever conflicts they had were quickly compromised in their friendship. These earliest years included ones on the mission station while their mother was learning to read. When Nyachae was about eight years old his father employed a teacher for several of his boys at his home. After a year or so, in 1941, Musa Nyandusi sent Nyachae and Oiruria to begin their formal education at Nyanchwa Primary School, which was run by the Seventh-Day Adventists.
Also read: How to Buy Residential House using pension savings
Also see: Join an Individual Pension Scheme and secure your retirement
Sourced from the Internet