Identity:World Pathfinder Day (15th September 2018)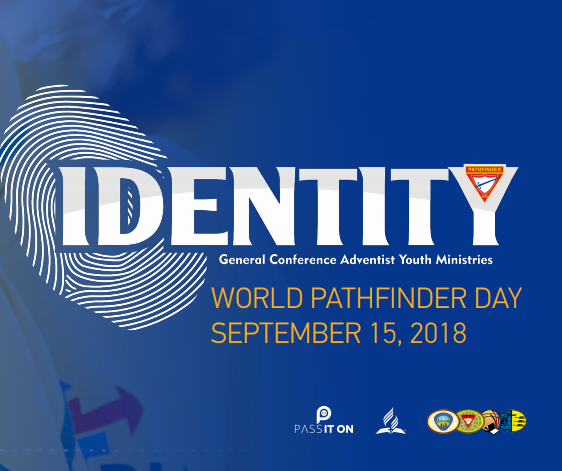 Identity:World Pathfinder Day (15th September 2018)
The Pathfinder Club is a department of the Seventh Day Adventist Church (SDA), which works specifically with the cultural, social and religious education of children and teens of ten years and above. Similar in many respects to Scouting, this differs by religious emphasis on their activities. This years Pathfinder World Pathfinder day falls on 15th September 2018. On this Sabbath, Pathfinders will celebrate a special day in which the message, as well as activities, will be geared toward helping them understand how Jesus is placed in each of the club activities.  Pathfinder Day should be a full day celebration including spiritual Activity (Morning Worship), outreach activities (Sabbath Afternoon) /(GPS: Global Pathfinder Service) and social activities (After the Sabbath). Kindly help promote the Hashtag #PathfinderDay in all of your publications related to this special day.
Message from the Leaders….
Gary Blanchard ,World Youth Director
"Greetings young people! Believe it or not the devil wants you to find your identity in a variety of false things, but God wants you to find your identity in Jesus! You see when you receive Jesus Christ as your savior, you become a child of God! (1 John 3:1) So your identity is now found in WHOSE you are! When you understand this and believe it with all your heart some amazing things begin to happen to you! You will have a special confidence about you! Confidence in the presence of God and confidence in the presence of other humans. Why? Because you are royalty! You are sons and daughters of God through the awesome love of Jesus Christ displayed for you at the cross. Stop hanging your head, allowing Satan, sin or others to overcome, discourage and depressed you. Instead walk in the Spirit as a child of the king!" As you celebrate Pathfinder Day, celebrate who you are in Christ!
Pako Mokgwane, Associate Youth Director
Human beings have been created in the image of God (Genesis 1:26, 27). Out of all things God (Father, Son and Holy Spirit) created, only human beings were formed in His image. So the creation story is a perpetual reminder that God values us so much that He creates us in His image. Sin cut the connection between God and us but through Jesus the connection was restored and we have a new lease of life. It makes sense to know Jesus for ourselves so that we may discover ourselves in Him and for Him only. You are Pathfinder created in God's image for a special purpose. Don't allow anything to destroy or take away your identity in Jesus. Protect it! Preserve it! Love it! Live it!
Andres Peralta, Associate Youth Director
Greetings Pathfinders! As you celebrate World Pathfinder Day, I want to remind you that God loves you. In fact He loves you so much He gave His son to die for you before you were created. (John 3:16) God has a special plan for your life and if you accept it, He will make it a reality and bless you beyond your wildest imagination. As you embrace who you are in Christ, you can be the face, voice, hands and feet of Jesus to your friends and family. May the love of Christ compel you to always be a friend to man and a servant of God. I pray that as you celebrate World Pathfinder Day the Spirit of the living God will empower you to take the Advent message to all the World. Be blessed, be a blessing and remember who you are in Christ!!
Pathfinder Day Service Suggestion
•Introduction
•Sabbath School
•Countdown Video
•Assemble for Processional Entrance
•Processional Entrance
•Pathfinder Song
•Pledge, Law
•Welcome, Introductions & Announcements
•World & Division Directors Video Message
•Song Service
•Prayer
•Offering
•Special Item (it can be music)
•Scripture Reading
•Sermon: What's your name?
•Special Item (it can be music)
•Closing Song
•Closing Prayer
•LUNCH
•GPS: Global Pathfinder Service (Community Service)
•Afternoon Program
Concert / Drama Presentation or Community REPORT
Pathfinder History Video
Baptisms (Can be done during the Divine service)
Closing Prayer
•Social Activity (Indoor or outdoor games)
•Farewell