Functions of Retirement Benefits Authority Kenya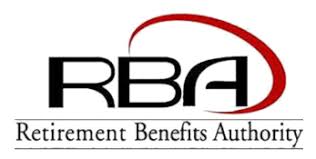 Functions of Retirement Benefits Authority Kenya
The functions of the Retirement Benefits Authority as stipulated under section 5 of the Act is to:
Regulate and supervise the establishment and management of retirement benefits schemes;
Protect the interests of members and sponsors of retirement benefits sector;
Promote the development of the retirement benefits sector;;
Advise the Minister on the national policy to be followed with regard to retirement benefits schemes and to implement all Government policies relating thereto; and
Establishment of the Retirement Benefits Authority Kenya
Retirement Benefit Authority  is a State Corporation established under section 3 of the Retirement Benefits ACT Chapter 197 of 1997, with the main objective of regulating and supervising the Retirement Benefits industry.
For more check www.rba.go.ke
Other top stories besides Functions of Retirement Benefits Authority Kenya
Must ask questions before hiring a house help
NHIF Beneficiaries Will Now Access Any Hospital Without Adding An Extra Coin
5 Questions You Should Ask In An Interview
Suluhu Umbrella Scheme Assures Retirees of Medical Cover
Kenya to access US$150m World Bank disaster kitty- official
Donkey penis inspired KICC design- Architect David Mutiso
'Profiteers' proves need for investigative journalism
Reporting Sexual violence against minors in Kenya: K24 erred
Retirement Benefits Authority Vision:
A dynamic and secure retirement benefits sector.
Retirement Benefits Authority Mission:
To develop, safeguard and deliver value to the retirement benefits sector through excellence in service delivery.
Retirement Benefits Authority Core Values
Firmness and fairness

Transparency and accountability

Innovation and dynamism

Proficiency in quality service delivery

Integrity
Retirement Benefits Authority Quality Policy:
Committed to continued excellence delivery by upholding professionalism, integrity and sensitivity to stakeholders interests.
INDIVIDUAL RETIREMENT BENEFITS SCHEMES REGISTERED WITH RBA as at November 2018 are here