Save,rescue,empower…Faraja kids need your help!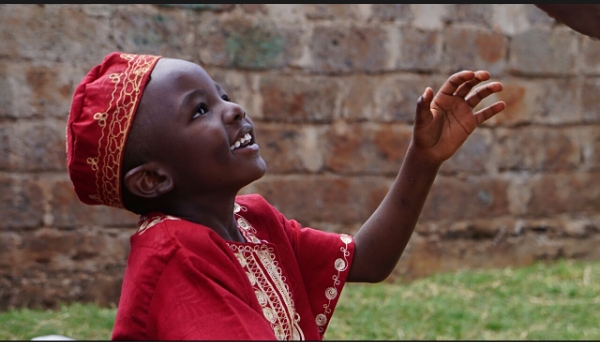 Save,rescue,empower…Faraja kids need your help!
…..to take care of the orphans and widows in their suffering… is one practice of a pure and genuine religion (James1:26,b). The call is extended to everyone,young or old,to make a date with this awesome family and give a helping hand. Everest Media solutions covered Faraja Adventist Children's Home and is pleading with all, Adventists and non-Adventists reach  these orphaned and vulnerable young ones who need our help.
Read Also:The Journey Has Just Began- Hephziba,73
Hebrews 13:16 Do not neglect to do good and to share what you have, for such sacrifices are pleasing to God.
Upon arrival at Faraja Children's Center,smiles of adorable kids will  welcome you,smiles that perhaps hide a lot of what these young souls have gone through so far.Smiles that will make you believe that all is well with them,but you will have to be strong to hold your tears when their director unveils their ups and downs.
"Hello,there was a meeting yesterday  about that house.Vacate by  end of December"… is the text message the director got recently from the landlord  whose building houses these  kids,probably the worst latest news for these children as the others living with parents are preparing for Christmas.
Shelter  is the most devastating challenge facing Faraja Children's home as they have been evicted several times before settling at Ngong,a house they have not paid rent for the past 22  months as the monthly  bill of  Ksh.30 thousand has become too hard to afford.Meet retired Pastor Francis Njau,74 on fire for Christ
Carrying the capacity of 72 children,Faraja Adventist Home  was founded by mama Martha Moraa,55 who is widowed and has been living with  her 3 children in the center since it began.The 12 years have given a room for the children to excel is studies and other areas in life,with the help of donors.Two are enrolled  in university,5 awaiting to join college and a number  in primary and secondary with only 4 in pre,school.
Anthony Omar,the founder's  biological son who is now an engineer by profession has set a good pace for the children as he has excelled,settled with a family and takes a lead role  in giving all sorts of support to Faraja Children,once again depending on his ability.See Also:Nairobi Central SDA Choir Covering Our Inspiration Today
The journey began  at Kibera slums where mama Moraa  was offering tuition  to the children nearby but was surprised when  she had to  offer shelter to her clients who were visiting her for coaching. After realizing that most of them were orphans and had no shelter,she decided to fulfill her long life dream of starting a children's home and that's how it came into existence.
Proverbs 28:27 Whoever gives to the poor will not want, but he who hides his eyes will get many a curse.
Rental challenge is just one in a million that the children go through as the home depend solely on well wishers and friends making live hard as they are always in short of finance to run the home.Raising school fees for the children has become a big burden because it is hard to get donors and sponsors.
The other biggest challenge is getting medical attention and it gets hectic when the kids fall sick especially when trying to get an extra coin for hospital bills.Clothing as a basic need is a dream to the kids especially to teenagers who outgrow their clothes daily,including school uniform.
Faraja children's home is under Seventh Day Adventist guidance and the children fellowship at Ngong SDA with 24 having been baptized already .
Getting help from donors of other nominations apart from Adventists has become a challenge because most of them are put off upon realizing that the home is associated with Adventists and donors show their backs claiming that evangelistic doctrines can not marry those of adventism,adding that Adventists are rich and therefore they should chip in and help. This should challenge any Adventist reading this and make us all aware of the need for carrying each other's burden.
Insecurity issues have hit the home in the recent past where the home was getting invaded ,but grateful the government chipped in and the cases have been minimized. You ought to know:9 Signs of Christ's second coming-Alejandro Bullon
What keeps the Mama Moraa smiling despite the ups and downs is that the kids are obedient,God fearing and motivated. They have big dreams in future and are committed to give back to the society  in future. She testifies that she already has engineers,doctors,nutritionists among other professionals in the camp.
Mama Moraa is appealing to all,to come in and help retain the smile for these kids. She welcomes anyone who can link the home with any organization giving all sorts of support to help steer the children forward.Any one willing to visit them is highly welcomed,with or without a gift.All the children want is love,and that hug may save them from many psychological issues bothering them.The kids too need motivational speakers and counselors and anyone bestowed with any of the gifts is most welcomed.Read Also:5 Reasons Why Sunday Supplanted the Sabbath
Matthew 25:35-40
35 For I was hungry and you gave me something to eat, I was thirsty and you gave me something to drink, I was a stranger and you invited me in, 36 I needed clothes and you clothed me, I was sick and you looked after me, I was in prison and you came to visit me.'
37 "Then the righteous will answer him, 'Lord, when did we see you hungry and feed you, or thirsty and give you something to drink? 38 When did we see you a stranger and invite you in, or needing clothes and clothe you? 39 When did we see you sick or in prison and go to visit you?'
40 "The King will reply, 'Truly I tell you, whatever you did for one of the least of these brothers and sisters of mine, you did for me.'
See Faraja Adventist Children Home  documentary published in 2013.
Reach Faraja Adventist Children Home on 0727821285 or drop an email to bosirem8@gmail.com
Proverbs 11:24-25 One gives freely, yet grows all the richer; another withholds what he should give, and only suffers want. Whoever brings blessing will be enriched, and one who waters will himself be watered.
We do video production,photography,tv and radio commercials,media training,documentaries,audio/music recording, graphic design,content development,social media(consultancy,strategy,management and training)
Facebook:Everest MediaSolutions
Email:everestmediasols@gmail.com
Twitter:@EverestMediaKE
Website:www.everestmediasolutions.com
YOUR SATISFACTION,OUR PASSION